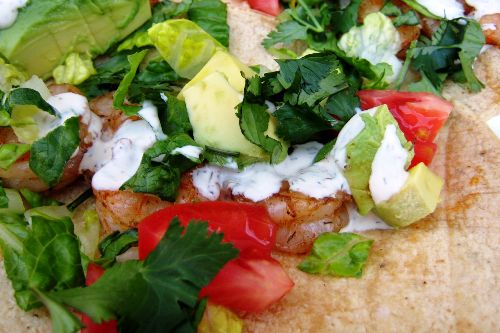 Shrimp Tacos
40 medium shrimp, peeled and deveined
2 cloves garlic, minced
1 teaspoon ground cumin
1 teaspoon chili powder
1/2 teaspoon kosher salt
1/4 to 1/2 teaspoon cayenne pepper (optional, also depending on your preference)
2 tablespoons olive oil
8 corn tortillas
Oil for frying
Shredded lettuce
Diced tomatoes
Sliced avocado
Cilantro lime sour cream (recipe to follow, this is a must for a great condiment)
In a bowl whisk together olive oil, cumin, salt and cayenne pepper (if using). Add in shrimp and toss to coat completely. Cover and refrigerate for 20 minutes to give the flavors a chance to marry. Cook shrimp in a skillet on medium heat until pink and cooked through, about 5 minutes. Turn off heat and cover to keep warm. Use enough oil to lightly coat the bottom of a small pan, about 2 tablespoons. Heat over medium -high heat. Cook each tortilla, place them on paper towels to absorb any of the oil left over. Spoon 5 shrimp into each taco shell. Top with lettuce, tomato, avocado and cilantro-lime sour cream. Serve.
Cilantro-Lime Sour Cream
1/4 cup sour cream
2 tablespoons chopped fresh cilantro
1/4 teaspoon cumin
Juice and zest of one lime
Salt to taste
Stir all ingredients together in a bowl. Served with black beans, chips & salsa.
Angela's Notes: This is a family favorite we have enjoyed for a couple of years now. Mackenzie was home for the first time since beginning at UNC, Chapel-Hill and this recipe was her first request for dinner. As mentioned above, go the extra step to make the Cilantro-Lime Sour Cream. It really adds a gourmet flair that puts this recipe over the top of the norm.